Gealtacht Iorrais
(for Irish speakers only!)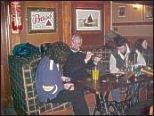 Ceanntar fiáin draíochta é Iorras, báite i mbéaloideas, oidhreacht cine agus eachtraíocht. Daoine fial flathiúil iad muintir Iorrais, iad réidh le forrán cainte nó dreas ceoil áit ar bith a chastar orthu. Bunadh ársa iad a labhraíonn Gaeilge binn ár sinnsear go blasta.
Gaeilge gnáth theanga an teaghlaigh in "Drom Caoin".

The Barony of Erris is part of the Gaeltacht, where Irish is still spoken as a community language. Interwoven with this language, so full of imagery is Ireland's rich Gaeilic heritage of great music song and dance.
---
Belmullet
Belmullet is a small but thriving town (c. 1,500 persons) straddling the isthmus between the mainland and the Mullet peninsula. The town was planned in the early 1800's by W.H. Carter, one of the chief landowners of Erris.
The town is well serviced with three banks, a post office, two hotels, many pubs, supermarkets, hardware, clothing, gift shops and petrol stations. There are three schools – one primary and two post primary schools, and a Roman Catholic Church. There are also many small cafes and restaurants.
Belmullet is the perfect place to base yourself for a holiday in the Erris area as you will always be within easy reach of many attractions such as golf, watersport, fishing and walking and of course a good pint of Guinness in the evening!
---
Festivals in Erris
There are many festivals held during the summer, Sea Angling, Horse and Dog racing on the beach, Sailing and Windsurfing and an International Folk festival. North Mayo Hill Walkers also host a hill walking festival on the cliffs of Erris.
The most special day of the year in Belmullet is Lá an Logha which is on August 15th every year. This festival dates back hundreds of years and started off as the farmers' holiday. It had a special significance in former times, in that on this day any man with honourable intentions for his girlfriend usually proposed and declared his intentions to the world by parading with his betrothed on the streets of Belmullet on August 15th. In more recent times it is a big meeting day for all local emigrants as they usually try to organise their holidays around 'the Logha'.
During the winter in Belmullet there is a variety of activities to choose from: Set Dancing classes, Salsa dancing Classes, Aerobics and Yoga. The card player can pit his wits at the local bridge club on Tuesday evenings.
---
The Barony of Erris
In the 16th century Connaught was divided into sections known as Baronies. This was done to facilitate the collection of taxes and rent which in turn were paid to the Queen of England.
Co. Mayo was divided into ten Baronies and they in turn were divided into quarters. Erris was one of these baronies and was divided into 43 quarters.
The Erris area stretches from Ballycroy in the south through Bellacorick in the east, north to Ceathrú Thaidhg and west to include the Mullet peninsula.
One explanation for the meaning of Erris is that it came from the two Irish words 'Iar' meaning west and 'Ros' meaning promontory while another suggests that it comes from the old Irish word 'Iorras' – a border or land on the margin of the sea or lake.
For a more detailed history of Erris read Within the Mullet by Rita Nolan 1998.